This is my Blog
I wrote so many blogs and I get great feedback about these. I think it´s time to get them all in 1 space. I am busy with collecting them all, so more is coming!
PROJECT RUN AND PLAY
WEEK 1: BACK TO SCHOOL

Project Run and Play is the blogger's version of Project Runway- but for kids! Each week- the designers are challenged to create the best outfit based on a theme. A panel of "celebrity" judges awards them a score in each category- and then a reader's poll is opened. Readers are allowed to vote once each week for the design they like the most- and at the end of the week- the score is tallied. The winner is announced- and the person with the lowest votes is "sent home." Have a look at all the great other designers and......

VOTE HERE
My Inspiration
I have to start with telling you how unbelievable excited I am to show my first outfit for week one! I had so much fun creating this outfit!
Living in the Netherlands means you can leave the house in wind and rain and half an hour later it's warming up- the sun is breaking through and within 15 minutes you feel all sweaty. Also the otherway round is possible: the sun is shining bright- but short time later rain is soaking you to the skin. With knowing this...My outfit is created as an all-weather outfit and can be combined on different ways.
The Outfit

Well- I had to start planning the outfit. The most important for me is that it is comfortable and a pleasure to wear. Yellow being my daughter's favorite color it was pretty clear that it was going to play a leading role in her outfit.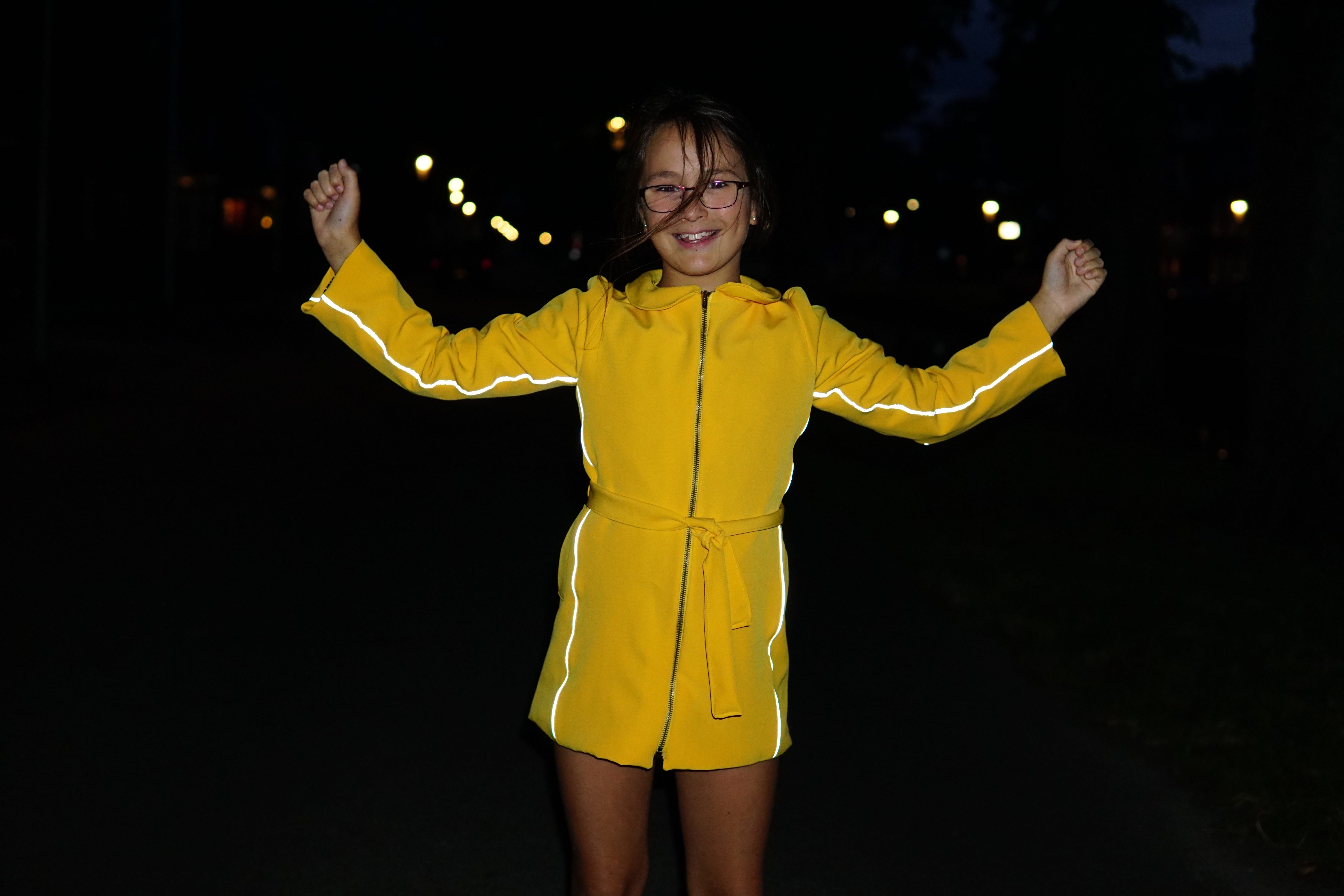 I added reflecting paspel for more visibility and safety- especially because most children here walk to school or go by bike.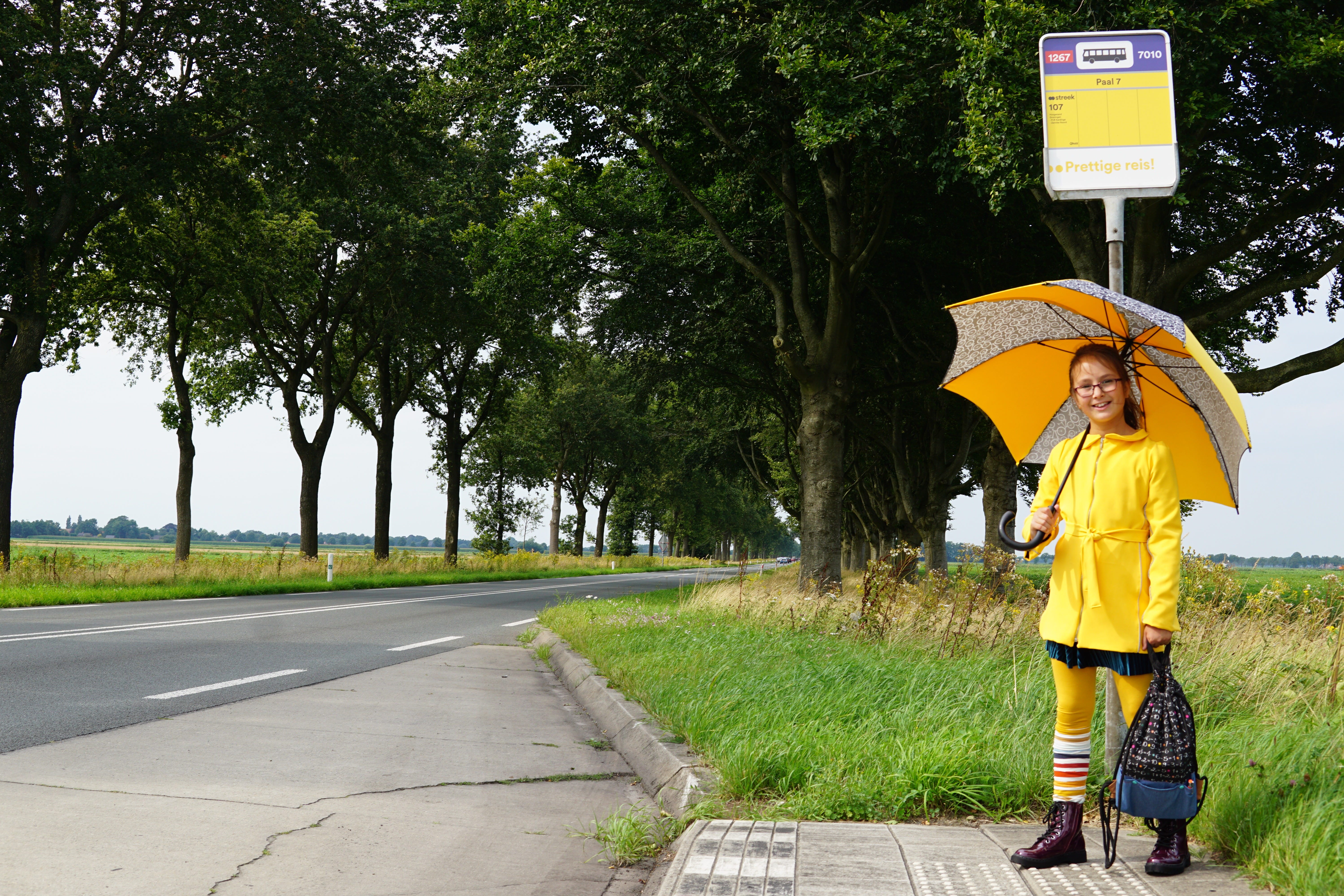 My pattern is based on a trenchcoat.The sleeve is a 2-piece sleeve and gathered at the shoulder- both for a better movability. The jacket is fully lined with a cotton fabric (aren't these bicycles awesome?) and of course a pleat at the back - again to give an eight-year-old all the freedom to move. Weltpockets- a round collar- zipper and a belt are finishing the look.
I was already looking for a rain coat pattern for a long time. I couldn't find what I was looking for- so I drafted it myself. The matching umbrella is me-made too- you can read my blog here if you want to create one for yourself too!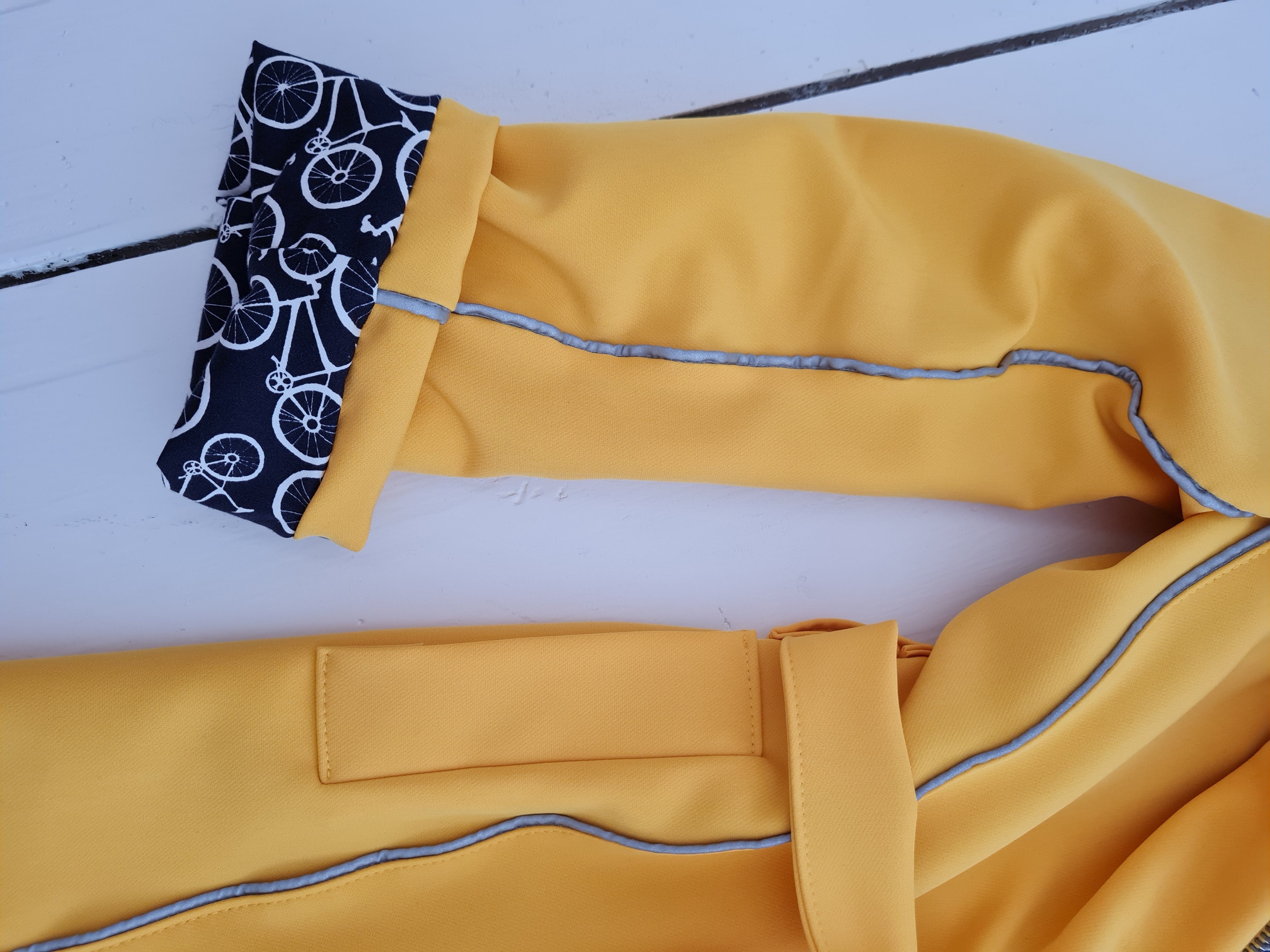 The fabric I bought at a fabric store in the Netherlands. It is already water resistent- but to be safe- I impregnated the whole outer jacket and the umbrella with a waterproof spray. Reflecting paspel is available at many online stores.
The Basics

Leggings- camis- sweaters- skirts are all basics that will never fail and are perfect for layering. When you have found a pattern that is working for you- there is no need to change it.
I used the Sunshine Leggings and the Kid's Cami, Undies, & Shorts pattern. The legwarmers are part of the Kid's Cuddle Tunic and the sweater is a hacked Kid's Oversize tee. All patterns are from Ellie and Mac

Minerva fabric was sponsoring fabric (thanks again!) and when my eye fell on the striped fabric I was like: Yes! That's the one! So I used this soft 4-way stretched French terry for the leggings. A thicker soft French terry - also from Minerva fabric - became the sweater and I had exactly enough left to make some legwarmers too! The cami is made from cotton lycra with matching FOE for finishing. Although I have a coverlock, I mostly prefer a wider zigzag and elastic thread like Seraflex to sew on the bindings/ FOE.
The Skirt
The skirt is a half circle skirt. I drafted it myself- which is super easy to do if you want to try it yourself- you can always send me an email and I am happy to help you.


The fabric I had in my stash for quite some time and is a 2-way stretch velvet plisse. I left the hem raw to get the most clean look as possible. The elastic was a lucky find in my stash too and is matching this theme so well.
The bag

Although my daughter does not need a big backpack for school- a bag for her lunch and a waterbottle is necessary. Still being in drafting mode I therefore created a neat little bag to match. The bag is fully lined and because I used woven material for the bottom and the lining- I was able to use this funny and suitable knit fabric from Minerva fabric. I am happy and so is my daughter!

Just a tip when you are sewing bags- it isn't the fabric- but the interfacing that is the most important part. Even when this is not a bag that needs to 'stand'- it is still completely interfaced and keeps the bag in shape- so it can be used for years from now on. And again- isn't this fabric cool?!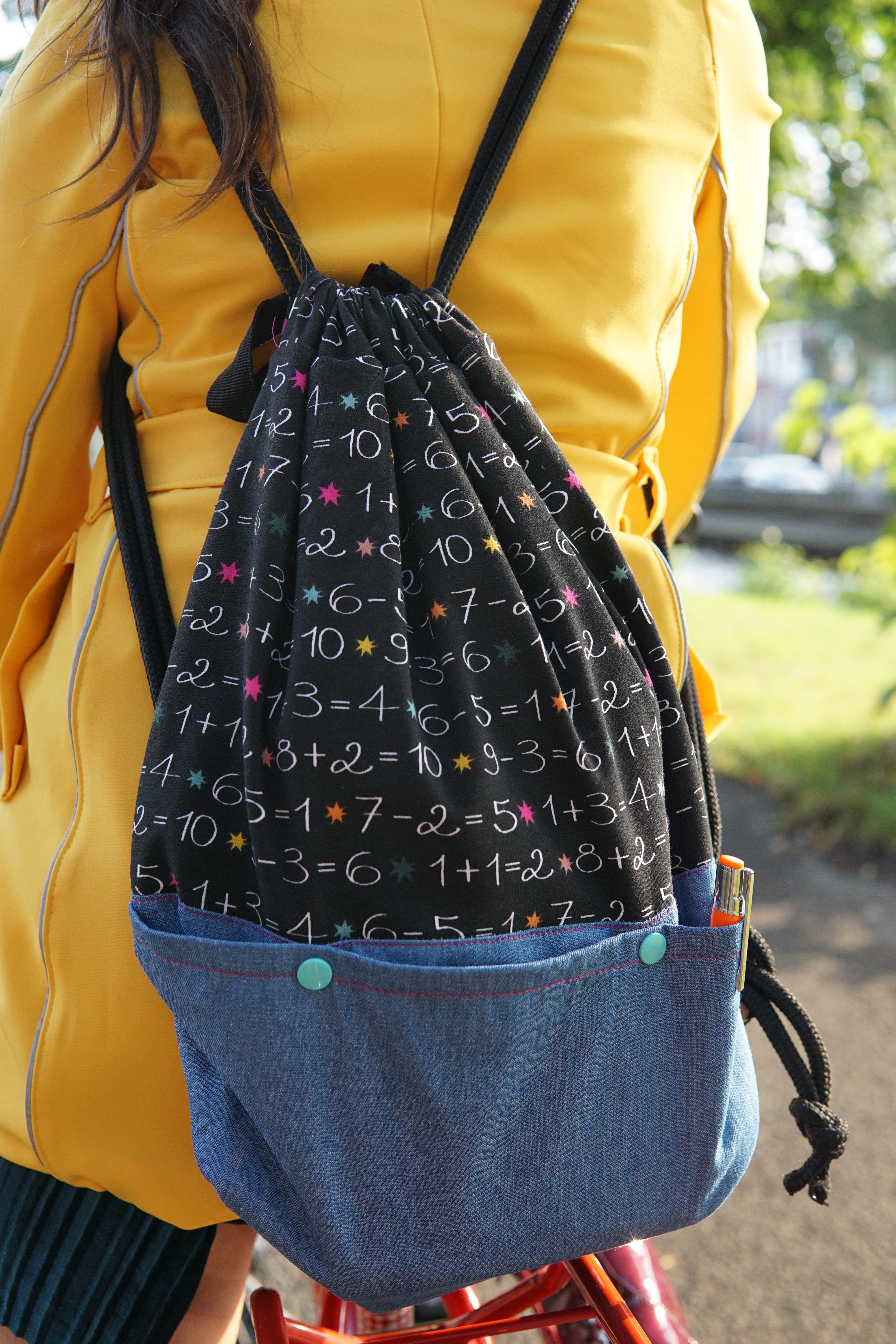 Sewing Tip
As you can see in the pictures, there are many ways how to wear this outfit and when filling a wardrobe start with the basics. It is nice when colors are matching- but also think of complementary colors.They can look so good together!

But...What is the most 'nasty' thing about clothes for children? Yes! They are too small in such a short time! The width isn't mostly the issue- but the length is. Don't give away the clothes to soon. You can modify the clothes by adding a contrasted piece of fabric at the hem for example. Or add a wider band at the bottom- cut through the middle and add a colorblock part and it can be worn another season easily!

You can also think of this before you cut your fabric. Cut the pattern around 2" longer at the hem and also at the sleeves. Don't hem it as usual- because it will be too long then- but fold the hem first: right side to right side and then flip the raw edge back to the bottom (see left picture)

Stitch as usual with a zigzag or when you use your coverlock be super carefull that you don't cut away any fabric! (middle picture)

Press and you are done! (the right picture) it now looks like you attached a band to it- but when the time is there that the shirt is going to be too short- just take out the seam and the extra 2" length is there! Now you can hem it as usual and it can be worn a little longer.
Sewing is my purpose- my driving force. It's one of the reasons I get up every day and do what I do. Most importantly it keeps pushing me to achieve bigger and better things with each new challenge.

I hope you enjoyed reading this blog and again- for questions I am just one email away.

Don't forget to vote for the designer with the best look- may the best win!
Project Run and Play:
WEEK 2: TEXTURE


I am so glad I made it to week two! Thank you everyone who voted for me, I really appreciate it.!


Texture is the theme this week. This is such an interesting and big theme! You can look at it, feel it or make it yourself. So I combined these three and created a mini-capsule for my youngest daughter. The whole capsule is inspired by different decades and I took the best out of every decade which fit exactly to how my daughter is and what she loves the most. Because at the end, that's what is the most important.

At the end of the photoshoot we walked back home and she said: "Yesss! Now this all belongs me!" :-)

For having a look at the designs from the other designers that are participating and when you want to vote, you can click here!
This is my daughter: tough, wants to become an archaeologist, a huge fan of dinosaurs, collects bones and rocks. She is one the most balanced person I have ever met. A sweety with a big heart and loves to dress up and buying new shoes :-)

The Basic:

With using different materials you can get interesting effects and with using other techniques you can manipulate your fabric limitless! And that's why I made a shirt as base from a plain cotton lycra. I want to show that you don't need expensive or special fabrics to create something new. This relaxed fitted shirt I drafted myself, cut it on tunic length and added drawstrings at the side to create ruffles and pleats. I cut the word 'MAKE' (a synonym for 'texture' but being more wearable) out of paper, transferred it on to silver knit fabric and used reversible applique to sew them on. At the sleeves I sewed some pleats and folded them in different directions. Some studs are holding them in place and beads at the end of the drawstrings are added. With ruffling the sides it becomes a top. With the ruffles out, it can be worn as a tunic.

The Pants:

As the shirt can be worn in two different ways, I also wanted two pants. I drafted a straight version first (this pattern will go in to testing soon at Ellie and Mac!) and from that pattern I made a pair of bell bottom pants too, with inserts to create some extra effect. The silver version is a knit velvet, the bell bottom pants are scuba suede. The buttons are made from the same fabric as the inserts to create some extra texture. They are just for decoration, because for a child nothing is easier than to hop in and out their pants if they feature an elastic waistband. I used the scuba suede to make a little dinosaur, my daughters favorite animal, because texture is about touch as well, right? The dinosaur got a little bow around her neck, which I tied on an hair-elastic, so the dinosaur is now an elastic-custodian too. Lol.

The Bodywarmer/ Vest:

Because of the different saisons I decided to draft a little bodywarmer extra. It is reversible, but my daughter prefers the fabric with the strands to be worn on the outside. I have no idea how this fabric is called, but it is so funny and has such a great texture! For making it easy for a child to wear it, it can be closed with a magnet, which is sewed in between the two layers. I hope to have this pattern in to testing soon too!

The Accessories:

Because she loves to wear hats, I also made a matching one to complete the outfit. This is the only pattern I didn't draft myself, but I wish it was mine! (This design is from the German designer Pom & Pino and it's called the ballonmuetze Malia.) Therefore, to give it a bit of a personal touch I folded origami butterflys in order to achieve a 3-D effect and to show that origami isn't just for paper. The same little butterfly was added to the bag, as was a hot stone for finishing. With the bag too I want to show that a plain denim can become something totally different! I folded pleats in a horizontal and vertical direction to create a whole new effect. In the upper front pleat I sewed a little hidden pocket.
A little belt for wearing over the dress as finishing touch and 'my' mini capsule is finished!
For the photoshoot we went to some different places around our house, again for proving that texture is just everywhere!

It would be awesome when you could vote for your favorite look! Click here to go directly to the website from project Run and Play and look what the other designers made!

I hope to see you next week for week 3!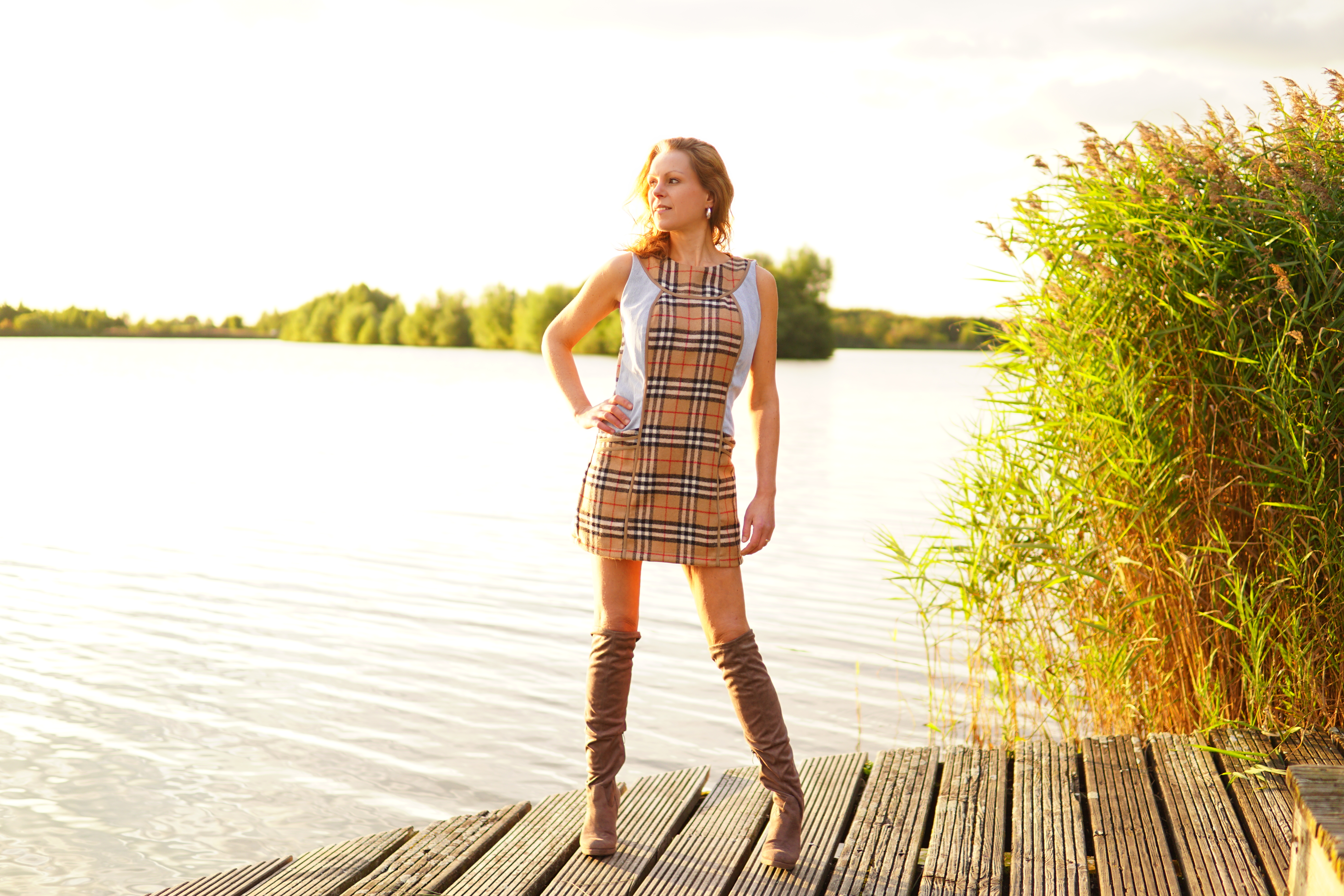 Kiran Dress- an upcycling idea with a story
I'm always working on something. Most of the time, it's getting results for testing and creating for designers.
But sometimes, it's a personal project that lets me explore new concepts and ideas.
Backstory

As long I can remember I am a fan of Burberry. I love their collections and they are so inspiring, but at the first place I fell in love with their typical check design that you can find in the lining of their trench coats mostly- for which it is most famous.

As you also know, they are having a price, so for me, it kept by looking at it and buying fabrics with a similar pattern.

Anyways, as I am from the Netherlands, my husband is from Germany and with every relationship you are getting their family with it for free.. We not only had to get to know each other, there is also plenty of differences in the culture and the backstory from the two countries aren't that historical as should.


To be short, my husbands family escaped from the East to West Germany to built up a new life. That wasn't easy and is forming you as person.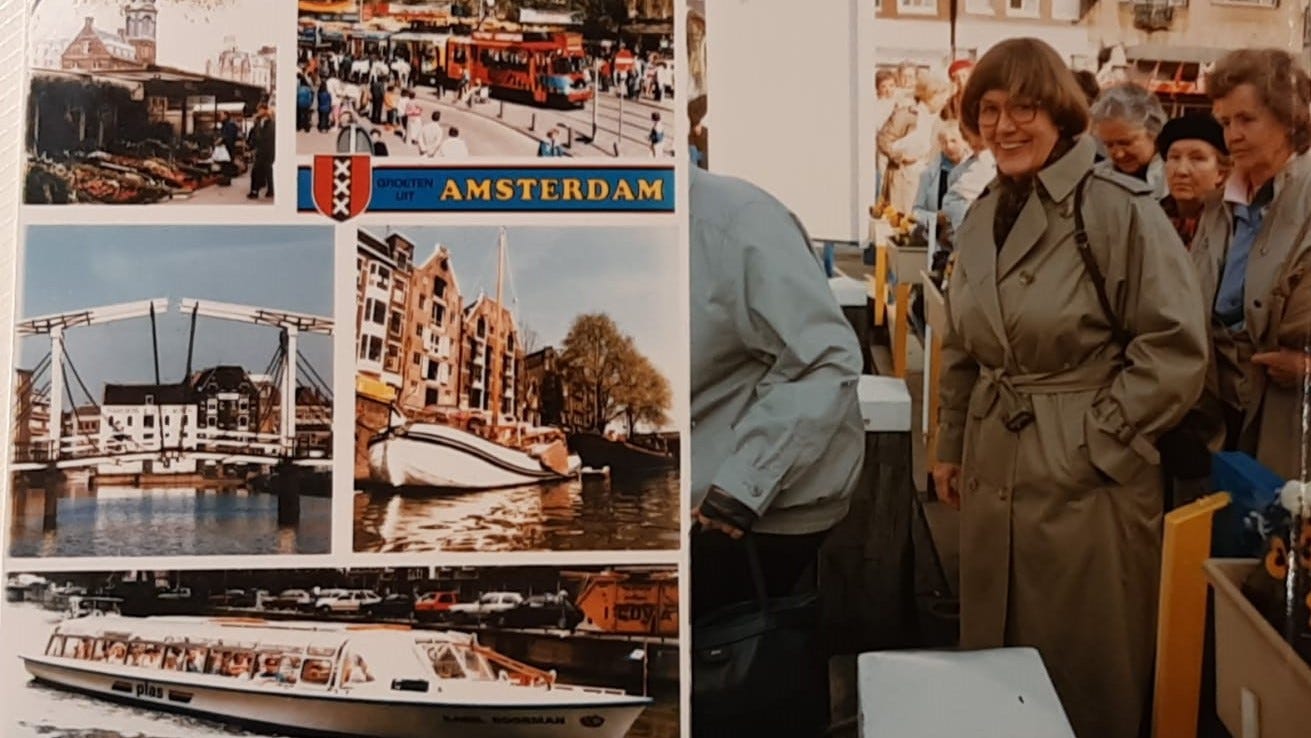 Before I came to Germany to meet his family, my husband warned me for his grandmother. She was hard and having high standards and the best wasn't good enough. Was I scared, lol.


But before I write a novel, it turned out: yes she was hard, but she was hard for herself too. She studied, worked and raised her children as a single mother. I actually found out we are pretty the same. The same interests and our love for beautiful things.
Three years ago she passed away and left me her Burberry trench coats. I don't think she ever worn a different coat and she was more then proud and carefull on them (see pic ).


I could do with it what I wanted. I am not a hoarder that I want to keep anything I get and giving away is easy and makes fun, but that doesn't mean I have to give away everything! Of course I tried the trench coats on, but they are absolutely not my fit.
One coat had a seperate lining and when I saw the Kiran Dress from Designer Stitch…I knew what to do! Well, I was hoping I knew what I did, because there was a slight chance I was short on fabric. I am never scared to cut into fabric, but this time I had to sigh a couple of times first..

Luckily this design is made for color blocking so the next big question was: With what fabric am I going to combine this! I layed out every kind of fabric in every possible color against it and seriously nothing was looking good. Ow well, that was a kind of a disaster!


But with being in the upcycle mode I digged into my denim stash and found an old jeans from my husband. I am still not 100% sure about the color, but I am 100% satisfied because of the combination and who it belonged too, to mix it like this. And with a white turtleneck from Mimi G. and some boots I am ready for fall!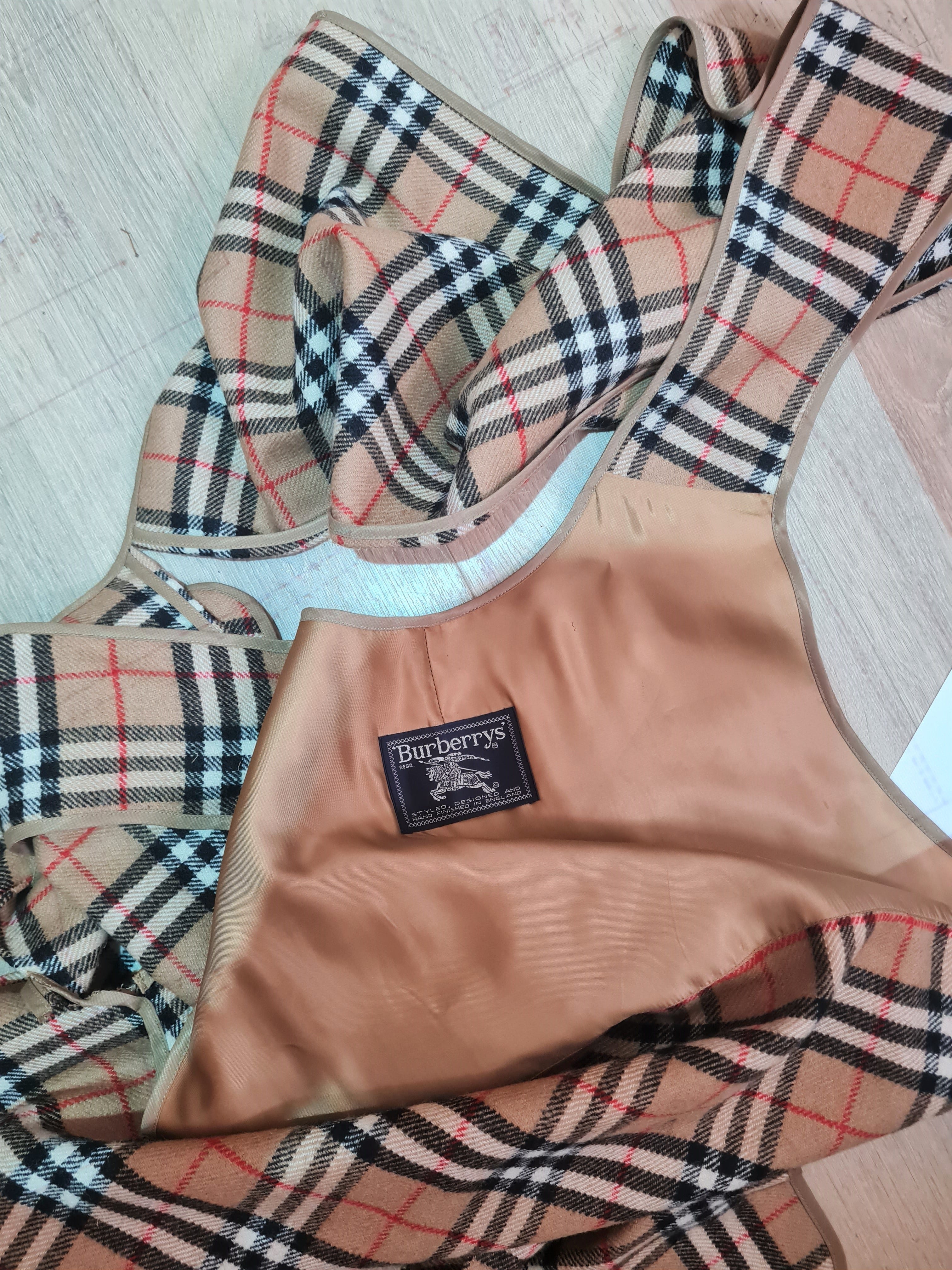 My next step is taking out the trench coat, re-cut it and make it mine too.
So, a trench coat from over 50 years is now being worned on a whole new way! The whole lining is being used; as dress, the bias tape as accent and the satin lining is used for the pockets.


Omi M. (as we called her) would never ever have worn it like this, but she would have laughed and be more then satisfied when she saw how happy I am with my new dress. I am going to take good care of it and looking forward to make something new from the other coats and make her proud.
Prp Collection #9- Project Art Studio
"

"Every true artist has been inspired more by the beauty of lines and color and the relationships between them than by the concrete subject of the picture"
-Piet Mondrian
Piet Mondrian was Dutch painter and art theoretician who is regarded as one of the greatest artists of the 20th century.
I can be very short, he inspires me every day. Long before I started my study Art and Architecture I loved his work already. Was I first impressed by his more impressionistic style, slowly my fascination moved to the abstract paintings that at the end was reduced to simple geometric elements.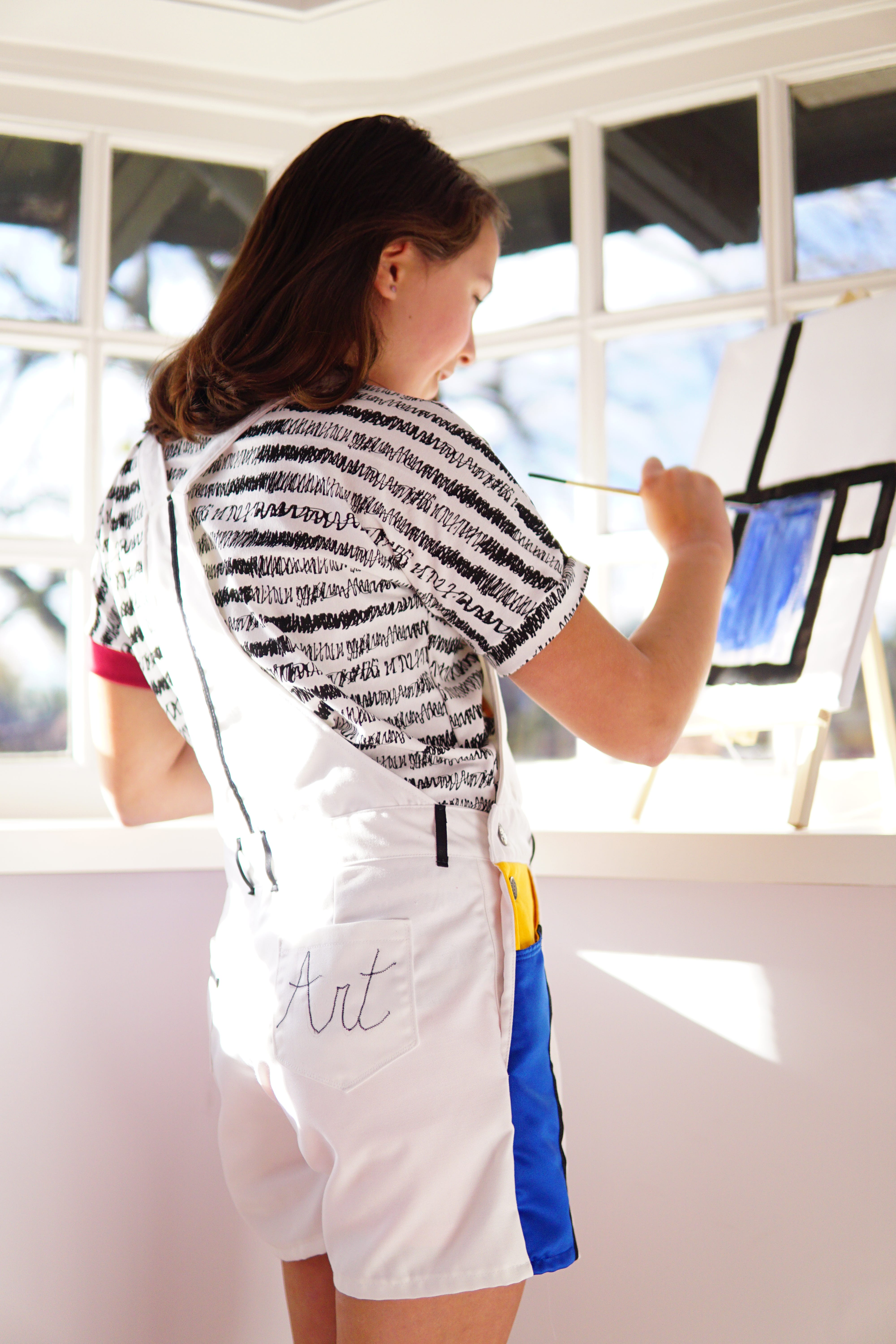 All people are going through many phases in their lives; to discover, to grow, to find their personal drive and when you are lucky satisfaction.
There are so many beautiful things to do in the world, it can be hard sometimes to find what is making you happy. I already had my art, my writing, drawing and sewing came on my path as well.
It is hardly doable to do all these things with a full family life, so I decided to combine all! Because at the end, isn't sewing art as well?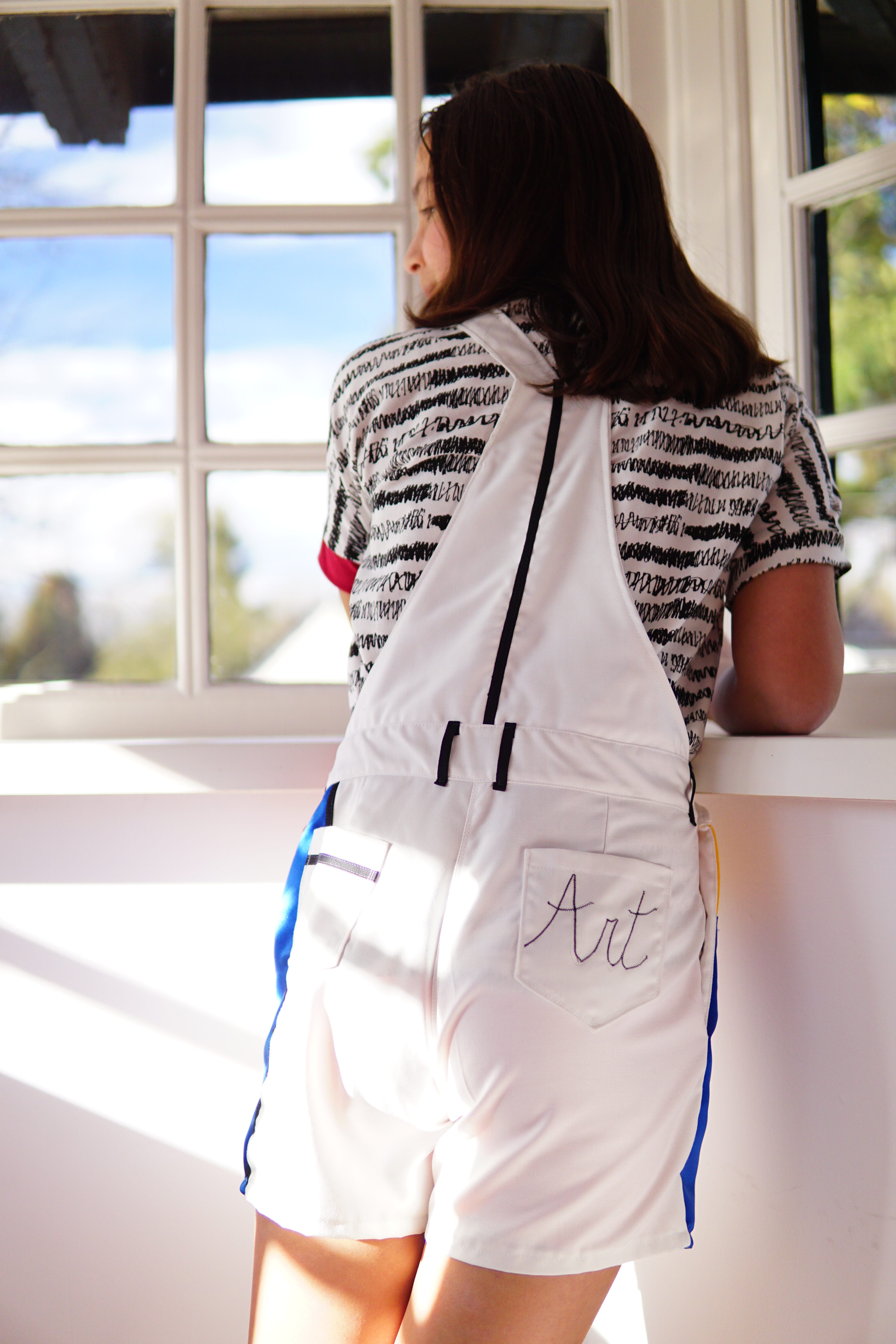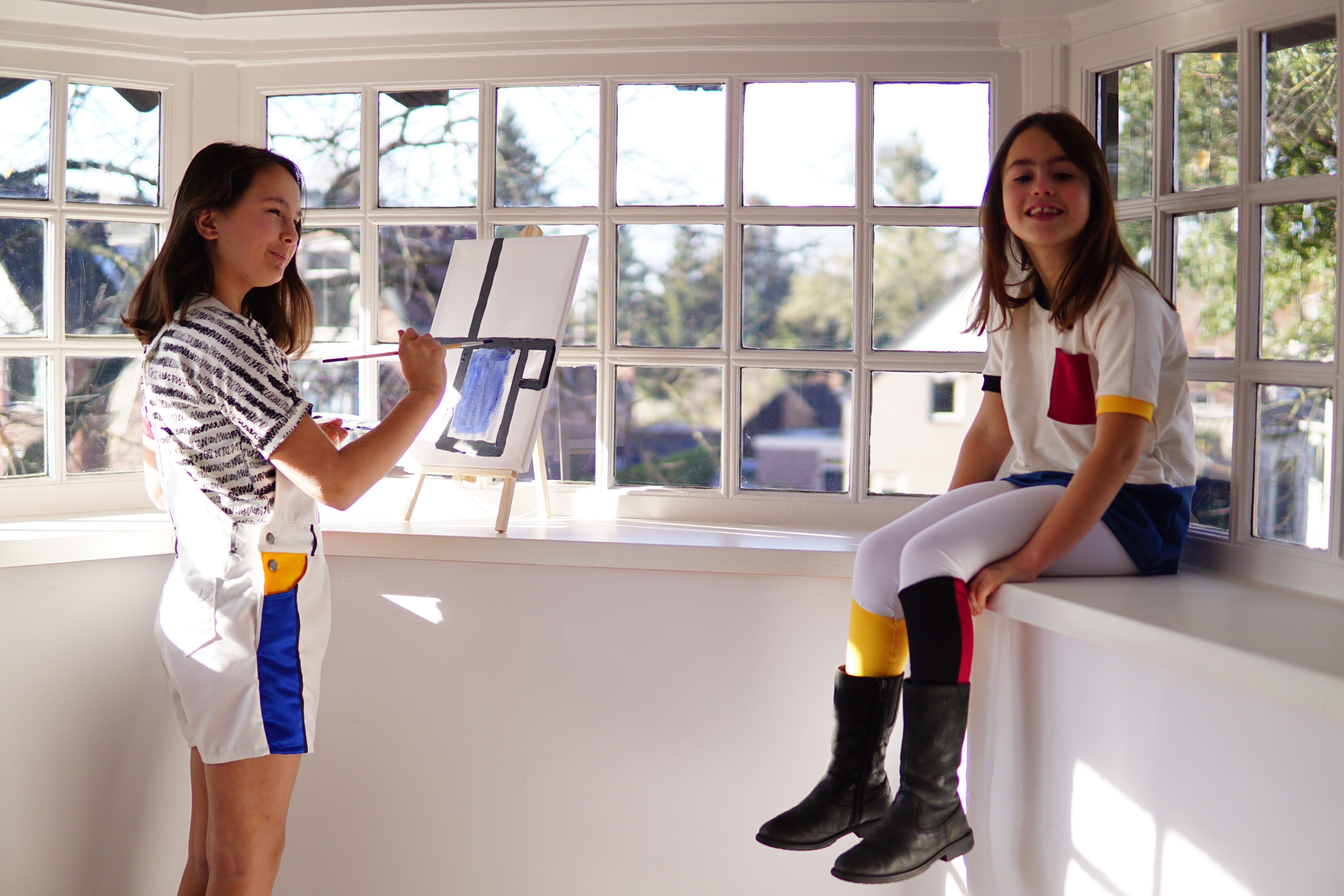 The sewing:
With Mondrian's I guess most famous works world wide- I wanted to make a whole outfit for my daughters inspired by his geometrical paintings with the colors blue, yellow and red only seperated by black lines on white canvas.
I started with the Degas Dunagrees as base and it was pure joy to sew them! I tried to kept it simple, because although color blocking is looking easy, there is a thin line between enough and too much.
Knowing that I skipped the idea of making 1 leg in total blue and instead I cutted a part of from the front and back leg, copied this little piece- + seam allowamce- and sewed it to the leg parts again to get the full legs back.
The Degas Dungarees only needed a basic tee, the Easel Tee to finish the look.
For my other daughter I used the Rocky Shore pattern. This one was easy, it is already made for color blocking!
Again I used the Easel Tee as top and cutted the cropped top version + the bottom part in a different color (don't forget to add seam allowance!)
The little pocket was great for extra pop of color and look 2 was done as well.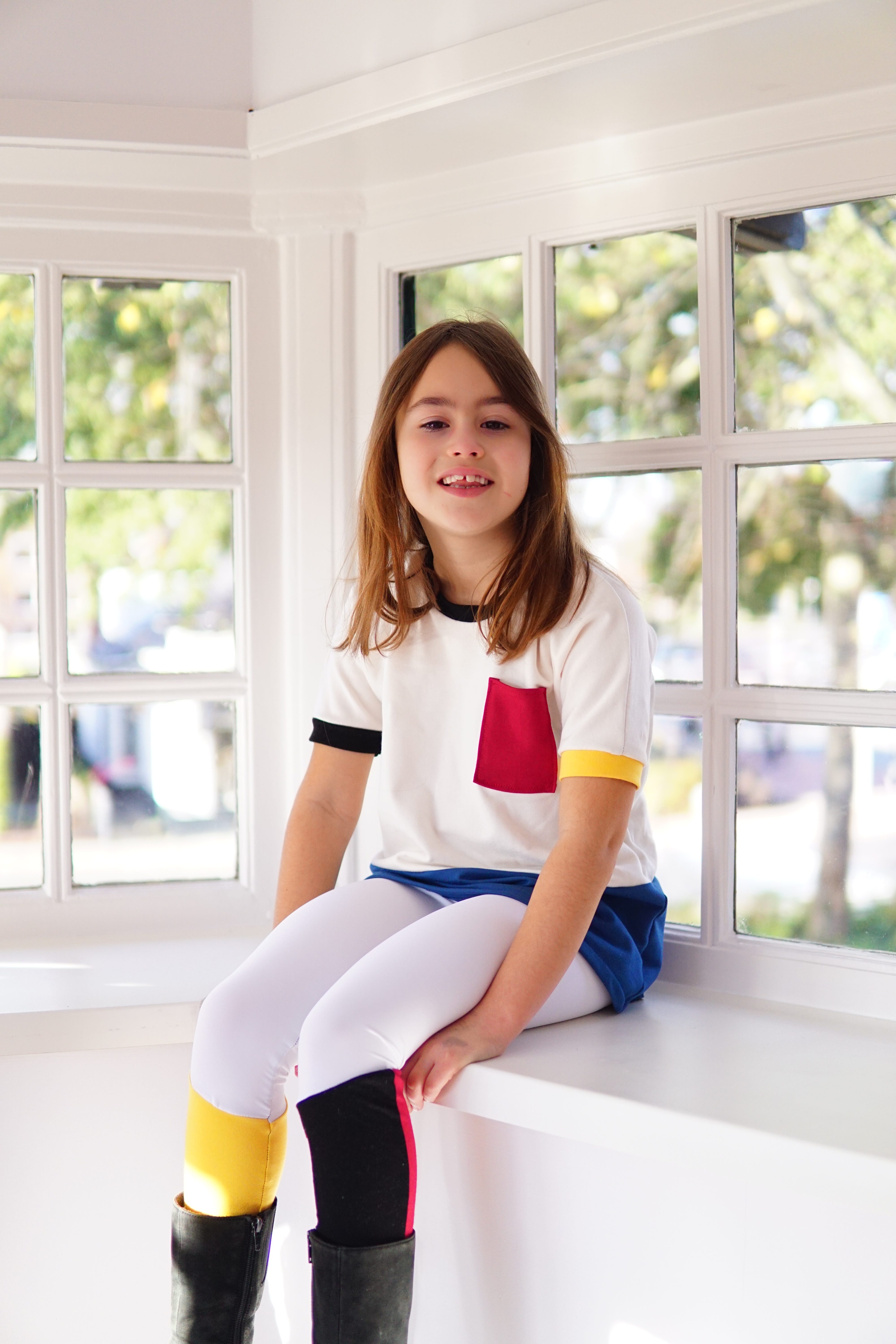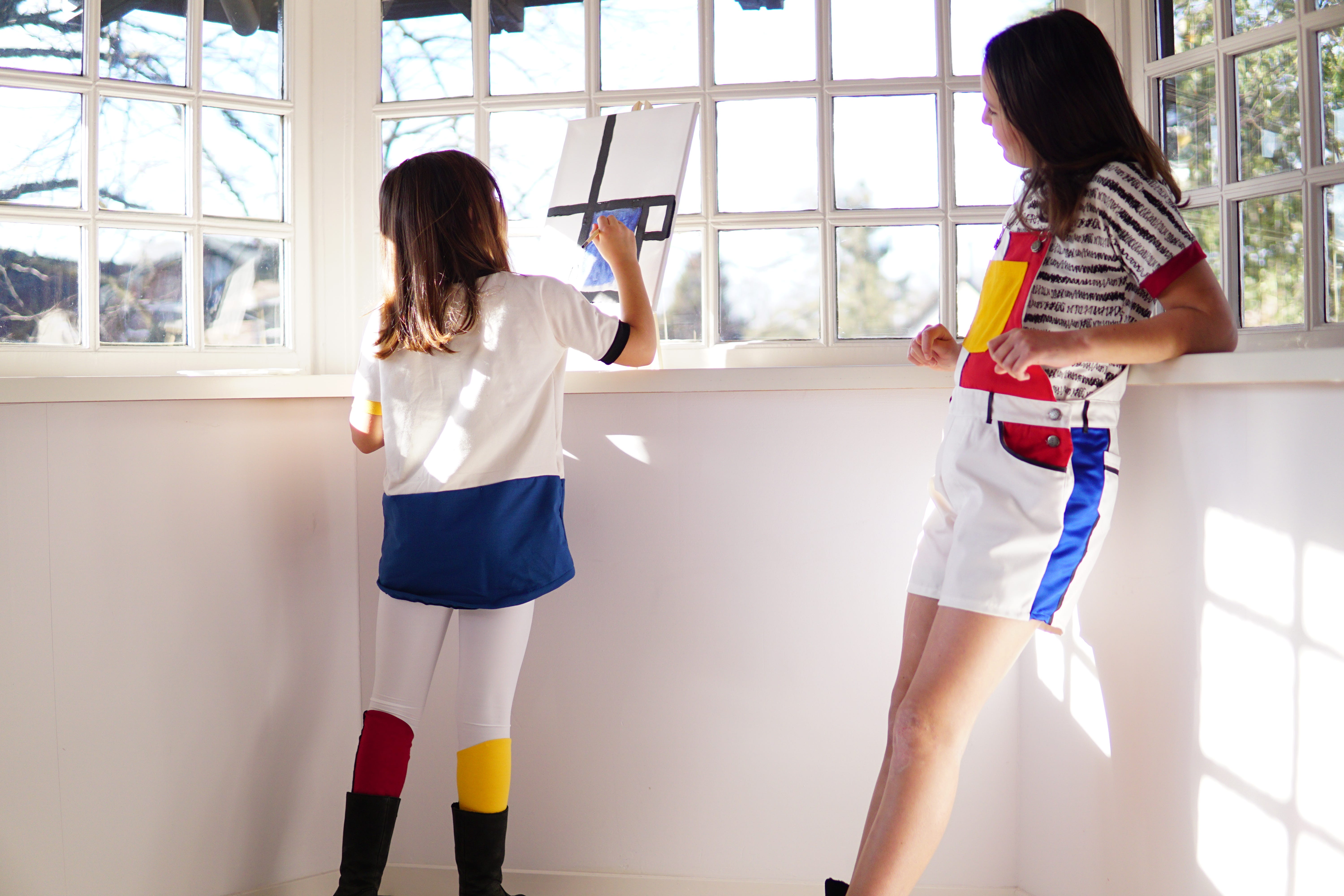 I don't think my daughters where ever more interested in doing a photoshoot! While I am writing this they are still painting. I can only hope to be at least a little inspiration for them as well and they follow their path to find their own drive, happiness and satisfaction.